The GreenHome Institute's - "Full Circle Urban Forestry: Introducing Urban Wood Opportunities" - Free CE Webinar
location: https://www.eventbrite.com
start time: Dec 5, 2018 12:00:00 PM EST
end time: Dec 5, 2018 1:15:00 PM EST
About this Event
Event Details
Many common urban tree removal practices in the United States view felled urban trees as costly waste. However, trees removed from our cities and communities due to death, storm damage, or other circumstances are a resource worth saving. When processed, sold, and utilized, the U.S. could produce nearly 4 billion board feet annually to cushion local economies, reduce expenses for communities, and provide a sustainable, renewable resource for distinctive finishes in built spaces.
This presentation will provide an overview of the urban wood industry and include the considerations necessary by designers, specifiers, and contractors wishing to utilize urban wood.
Continuing Education Units (CEUS) 1 hour in

Green Building Certificate Institute (GBCI)
Building Performance Institute (BPI) NonWholeHouse
American Institute of Architects - AIA (HSW)
Certified Green Professional (NARI & CGP)
Certified GreenHome Professional (CGHP)
AIBD
State Architect / Builder License may be applicable
Lessons Learned
1. Learn of the extent of urban wood as a resource available to the construction industry, especially in light of the devastation from disease and insect.
2. Understand the necessary interconnectivity required between communities, sawmills, and lumber distributors to make the use of urban wood as easy and financially viable as possible.
3. Explore the design language and concepts needed to promote the use of urban wood by designers and owners.
4. Learn the means to correctly specify urban wood for a project; ensuring that the architect, contractor and millworker understand the special procedures needed to use urban wood.
5. Understand the technical challenges of using urban wood. Learn the benefits beyond the application - environmental, economic, and societal.
Session sponsor:
TSTUD - Stop thermal bridging for less than the cost and hassle of exterior insulation. Go TStud Today!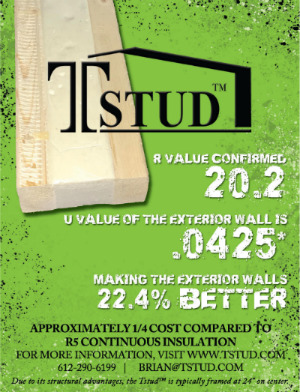 Instructor: Dwayne Sperber
Wudeward owner, Dwayne Sperber is not only a supplier of urban wood, a precious and renewable resource. He's an industry advocate, working to ensure urban trees continue to be put to their highest and best use. This mission led to Dwayne becoming a founding member of Wisconsin Urban Wood, a nonprofit focused on building networks of people and businesses that links material streams and availability of quality urban wood products and services across Wisconsin. Dwayne also serves as an appointed member of the Wisconsin Urban Forestry Council.
Have questions about Full Circle Urban Forestry: Introducing Urban Wood Opportunities - Free CE Webinar? Contact GreenHome Institute